Now is your change to take your leadership learning to a new level with the Be a Better Leader audio podcast.
A podcast is just a fancy term for an audio file that you download to your computer and either listen to it on your computer or transfer to your iPod or mp3 player. No matter how you listen to it, a podcast makes it convenient to increase your knowledge and skill and take your leadership skills and career development to a new level.
The Be a Better Leader podcast features Unique Training & Development President Greg Schinkel delivering practical tips and insights you can immediately apply to be more effective in your current role and future promotions.
The new podcast follows nearly three years of weekly radio appearances as the Leadership Wizard. The podcast format allows for a longer segment and multiple topics.
In the first podcast is 13 minutes long. These topics are presented:
Lead Change, Don't Manage It
What Your Boss May be Really Thinking and Saying
Leadership That Comes Too Late
To Twitter is Not to Fritter
You are invited to check out the podcast for yourself and provide feedback.
If you are an iPod user and have iTunes installed on your PC or Mac, just click on the link below to go to iTunes and subscribe to the podcast. Please provide a rating after you listen. http://itunes.apple.com/WebObjects/MZStore.woa/wa/viewPodcast?id=311462573
If you are not an iTunes/iPod user, please click on the link below to listen to the podcast on your computer or download to an mp3 player.
http://www.beabetterleader.com/podcasts
Connect with Greg Schinkel at LinkedIn, Plaxo and Twitter (http://twitter.com/leadershipwiz)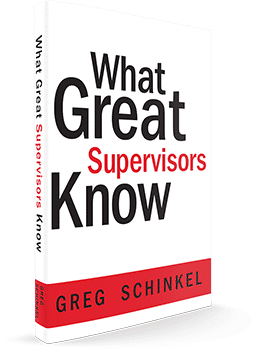 What Great Supervisors Know
- yours FREE!
Simply enter in your name and email address and we'll send it right over to you.