During training workshops this week with health care professionals and team leaders and supervisors with a successful printing company, I asked, "Out of all the bosses you have had in your career, how many would you consider to be great leaders?"
The average response was that only 1 or 2 out of 10-12 managers or supervisors exhibited strong leadership skills.
When asked, "What characteristics made the leader you admired successful?" the responses included:
Provided a challenge
Was supportive
Showed appreciation for a job well done
Had confidence in me that I did not have in myself
Made the job fun
Was a good communicator
Was a good listener
Approachable
Good coaching skills
Sense of accomplishment/achievement
Knowledgeable
Then I asked the question, "Was the best leader you were thinking of 'perfect' or did they have flaws?" Everyone agreed that even the best leaders have flaws and that it wasn't necessary to be 'perfect' to be a good leader.
There is a vacancy of leadership in society and in organizations. Leadership is not exclusively the job of executives, managers and supervisors. Every person influences the behavior and output of the people with whom they interact.
Decide to take your leadership role seriously. We are all counting on YOU!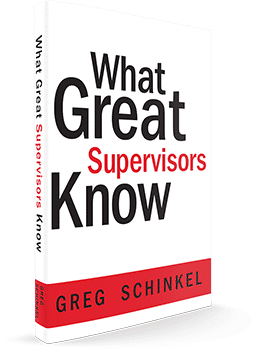 What Great Supervisors Know
- yours FREE!
Simply enter in your name and email address and we'll send it right over to you.