In this segment I want to talk about some of the observations I have made about our experience at Disneyland and how it compared with some of the other theme parks we attended while in California.
Many people from this area will have been to Disneyworld in Orlando. For those who haven't been to Disneyland in California, it was the original park built by Walt Disney. Compared to Disneyworld, Disneyland is like the Magic Kingdom in Florida. It and the sister park California Adventure are within walking distance of each other so everything is very compact compared with the Florida parks. Cinderella's castle is much smaller in California.
Q: What are some of the leadership observations you made?
A: We had the benefit of attending a few other parks during the same trip – Universal Studios, Sea World and the San Diego Zoo and there were some noticable differences at Disney.
First – Attention to detail – at Disney you get the impression that every detail has been examined and reexamined. I used to subscribe to the notion "don't sweat the small stuff" until I realized that sweating the small stuff can make such a big difference in customer experience.
Q: What are some of the details that made it different?
– Every aspect of an attraction follows a theme. The look of the pavement, the railings, the uniforms the staff were wearing, the signage and the music playing were all consistent to create a customer experience.
– We also noticed that on the roller coasters like Space Mountain, Big Thunder Railroad and California Screaming, they played music on the ride that added to the experience. It's interesting to note that Space Mountain never gets faster than 17 miles per hour and yet because the ride is in the dark and has music playing, you get the perception that you are going faster than you really are.
Q: What else did you notice?
Second – Disney really has a way of managing your expectations in terms of line ups. First they tell you how long you will wait and then they make sure that you actually wait less than what they said so that you feel more satisfied. Then their lines are set up to create the illusion that you are progressing faster than you really are. It's kind of like when you take the back roads instead of the highway – you feel that you are making more progress even though the highway might be faster even if the traffic flow gets congested sometimes.
Third – I think Disney did the best job of focusing on the experience instead of separating you from your money. Don't get me wrong, they still separate you from your money, it's just that they do it in a way that makes you feel happier. They provide the experience and then give you the opportunity to satisfy your needs with product sales, meals, etc. I think we paid $85 for breakfast with the Disney characters – they meal was good but of course the highlight was getting the picture with the characters.
My advice to leaders is to look at the experience you are creating for your customers. Are you satisfying their needs such that they want to give you more money. For more info, please visit LeadershipWizard.com.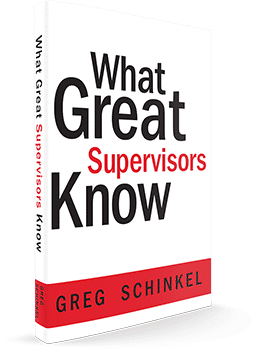 What Great Supervisors Know
- yours FREE!
Simply enter in your name and email address and we'll send it right over to you.