Front Line Leadership
Topics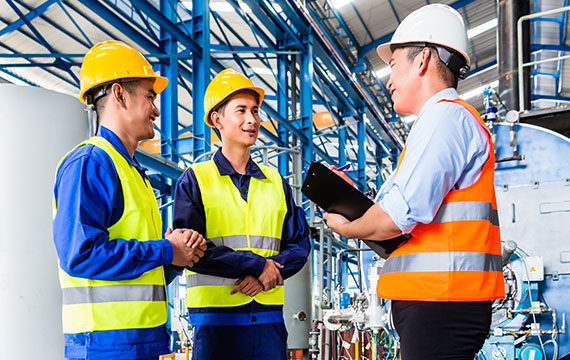 Expectations of a Front Line Leader
Overall objective:
Understand what's expected of you as a leader and identify leadership skills to work on.
This module will enable participants to:
Evaluate their skills and knowledge against the expectations of a front line leader.
Improve relations between management and their team members by properly representing each side.
Evaluate their message delivery between management and team members to help ensure the proper message is being delivered.
Establish a strategy to be able to escape the leadership trap and gain time to develop and implement processes, strategies, and training to improve the performance of the team.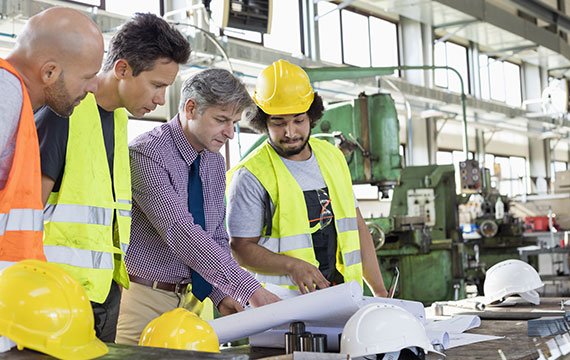 Winning the Day
Overall objective:
Create a sense of accomplishment and positive momentum in your team.
This module will enable participants to:
Clarify expectations so their team knows what success looks like.
Create a sense of optimism and hope in their team by addressing frustrations and obstacles and creating a brighter future for their team.
Explain "why" to get better buy-in from team members.
Build a process for shift starts and shift handoffs to maintain a seamless production and performance outcome from one shift to the other.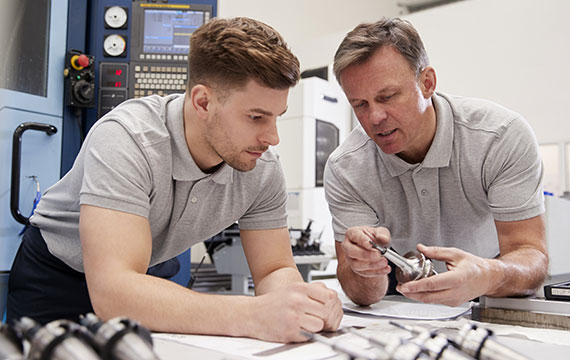 Leading by Example
Overall objective:
Create a culture of mutual respect so that your team will follow your example.
This module will enable participants to:
Demonstrate their expectations through their actions.
Treat their team members consistently to create teamwork and avoid feelings of resentment.
Set boundaries to avoid personal relationships affecting their ability to lead.
Build relationships with their team so they can achieve better results.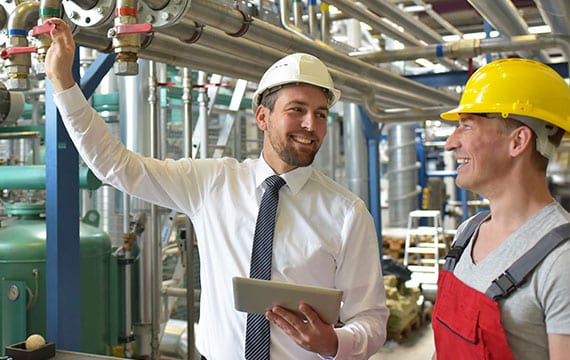 Leadership Styles
Overall objective:
Use the Coach leadership style to maximize both performance and team member satisfaction.
This module will enable participants to:
Understand and identify the characteristics and impact of four common leadership styles:
Autocrat, Caretaker, Conformist, and Coach.
See each leadership style in action and understand what type of results each style produces.
Aim to be a "Coach", and then, as situations warrant it, flex into other styles.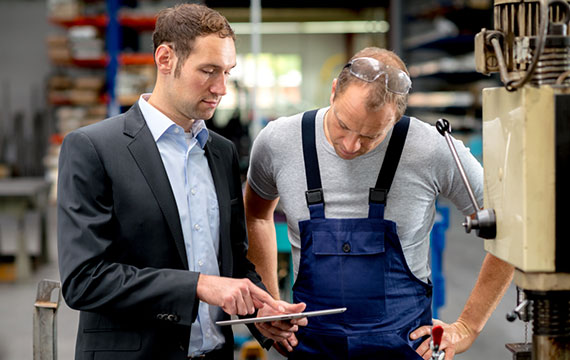 Motivating and Engaging Employees
Overall objective:
Create an environment where your team members are motivated to do their best.
This module will enable participants to:
Understand how they, as a leader, impact the level of motivation and engagement of their team.
Have a positive perspective in regard to young workers by understanding that they have been raised differently.
Create a welcoming environment by implementing simple steps to help retain team members and reduce turnover.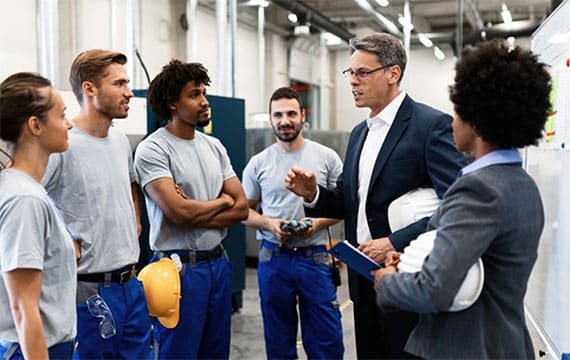 Effective Communication
Overall objective:
Communicate information, expectations, and feedback in a way that maximizes engagement and delivers results.
This module will enable participants to:
Understand the various elements that make communication successful, so their team members take the action the leader desires.
Use the appropriate words, tone, and body language, in written or verbal communication, to get their message across.
Use open-ended questions and effective listening to engage and involve their team.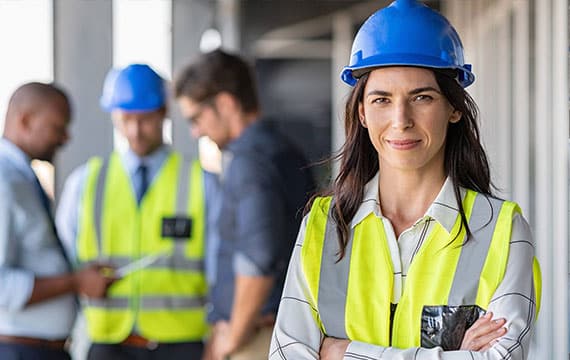 Leading Change
Overall objective:
Accelerate change initiatives by reducing resistance and increasing buy-in.
This module will enable participants to:
Remain curious and experimental toward change initiatives.
Have their team reduce resistance and increase buy-in by understanding the need for change, having confidence in their ability to change, and putting change into action.
Develop a game plan to implement a change initiative.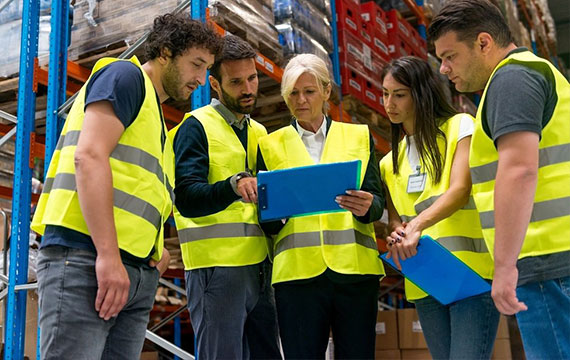 Accountability, Empowerment and Training
Overall objective:
Help your team become more self-reliant and engaged and increase their bench strength.
This module will enable participants to:
Understand the difference between the comfort, panic, and learning zones, and help shift team members toward the learning zone.
Help them identify how to empower their team to be more self-reliant, and free up their time for higher-value tasks.
Increase the accountability of their team so they take more responsibility and increase their sense of ownership.
Provide the necessary knowledge and skills through effective on-the-job training so they feel empowered and can be held accountable.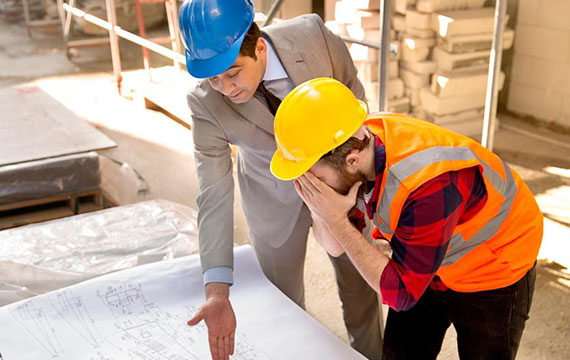 Addressing Behavior and Performance Issues
Overall objective:
Address behavior and performance issues constructively, to build up your team and ensure expectations are met.
This module will enable participants to:
Take a strengthening and building approach to delivering constructive feedback.
Demonstrate the courage to address issues promptly to avoid unnecessary tension or escalation.
Select and use one of three methods to address issues and reinforce behavior.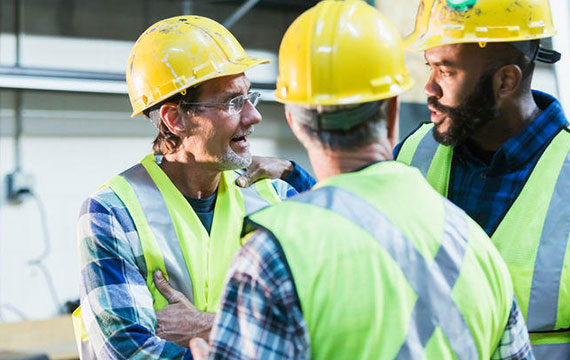 Managing Conflict
Overall objective:
Resolve conflict constructively to achieve better results and relationships on your team.
This module will enable participants to:
See that the best outcome to conflict is where all parties are satisfied with the solution.
Determine how individuals react and how best to approach them to resolve conflict.
Realize the root of most conflict is misunderstanding and that the solution is to build a common understanding.
Help team members vent their emotions before solving the problem.
Resolve conflict situations constructively and respectfully.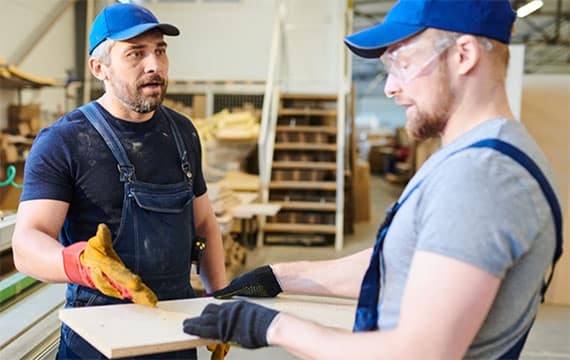 Safety Leadership – Level One
Building a safety culture and providing safety feedback are essential responsibilities for front line leaders. This topic helps the front line leader develop the mindset and skillset to reinforce a safety culture and builds confidence in how to address co-workers or peers who might unwittingly commit unsafe acts.
Outcomes:
Increase understanding of what motivates unsafe behavior.
Recognize that safety is a combination of people-focus and compliance-focus.
Demonstrate behaviors that increase trust and respect in the workgroup.
Deliver constructive safety feedback even when the recipient is argumentative or defensive.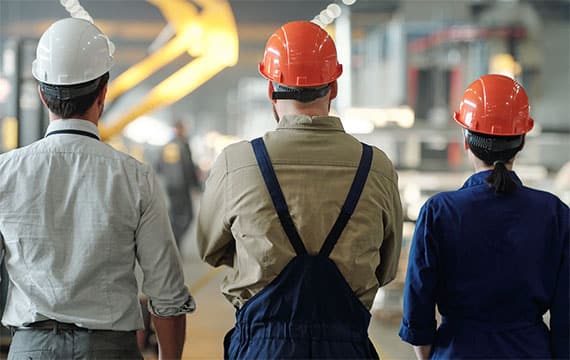 The Transition from Peer to Leader
Managing the transition from a co-worker or peer to being a leader can be a challenge. Instead of being responsible for only your own safety, quality, and productivity, you are now expected to provide leadership to your team. This session helps front line leaders understand what is expected and how to be more confident, capable, and consistent in their role.
Outcomes:
Understand how being a leader differs from being an individual contributor.
Assessing yourself against the characteristics of an effective leader.
Understand the expectations of a front line leader.
Be aware of typical challenging situations faced by front line leaders.
Balance leadership and friendship.
Understand the hourly leader's role in maximizing safety, quality and productivity, while maximizing employee involvement.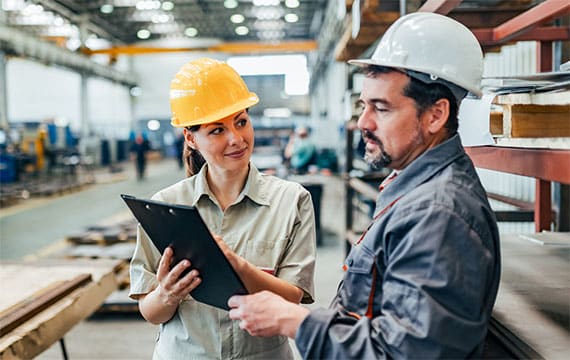 Leadership for Talent Retention
Front line leaders are surprised to know that the relationship they have with team members has a large impact on retention and turnover. By consciously creating positive emotional experiences for team members in their first few house, days and weeks with the company, turnover can be reduced by up to 20%.
Outcomes:
Understand how leaders and skilled technicians impact a team member's decision to leave or stay with the organization.
Learn simple, effective leadership strategies and tactics that can make an immediate, quantifiable impact on retention.
Develop positive leadership actions that influence team member motivation, attention to detail and productivity.
Change your leadership approach to positively impact retention starting immediately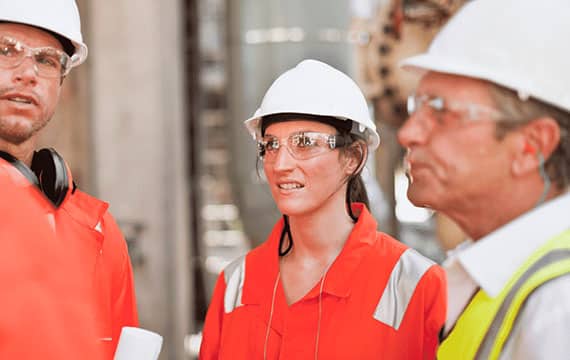 Emotional Intelligence
Skilled front line leaders know how to control their own emotions and show empathy for their team members. In this session will help leaders understand how to keep themselves in a positive emotional state and connect with their team members effectively.
Outcomes:
Increase your self-awareness as a front line leader.
Modify your behavior and approach depending on the situation and the person you are interacting with.
Read people more effectively and show empathy for their situation and point of view.
Coach the behavior change needed to ensure the team member meets expectations in terms of behavior and performance.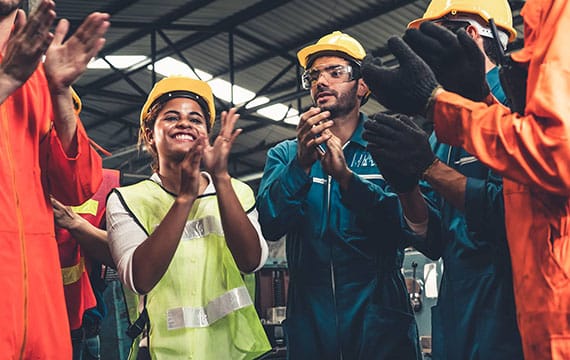 Providing Peer-to-Peer Feedback
Front line leaders can find it a challenge to provide feedback to their peers. Even without formal disciplinary authority or responsibility, the front line leader is still expected to have conversations with peers about safety, quality, productivity and behaviors. This session provides the skills to help front line leaders be more confident, capable, and consistent in providing feedback to the team.
Outcomes:
Why it's essential to say something when you see something.
How providing peer feedback actually improves the morale and attitude of the team.
Factors that impact the success of the feedback conversation.
Template and practice in conducting an effective feedback conversation.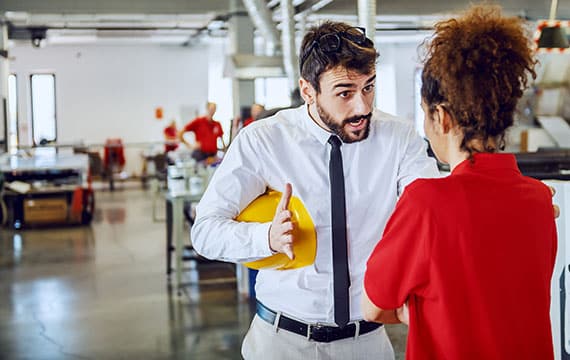 Stress Resilience: Performance Under Pressure
Expectations have never been higher for front line leaders as they pursue excellence in safety, quality, and production. Leaders can either succumb to the pressure or learn how to maintain high levels of performance against the backdrop of high expectations.
Outcomes:
Understand the performance/stress curve and how to extend your performance curve under pressure.
Self-evaluate and expand stress resiliency factors (includes diet, exercise, body quieting, relying on colleagues, meditation).
Apply the concept of ego depletion and why you should have difficult conversations earlier in the shift if possible.
Use active problem solving to deal with uncertainty and reduce stress.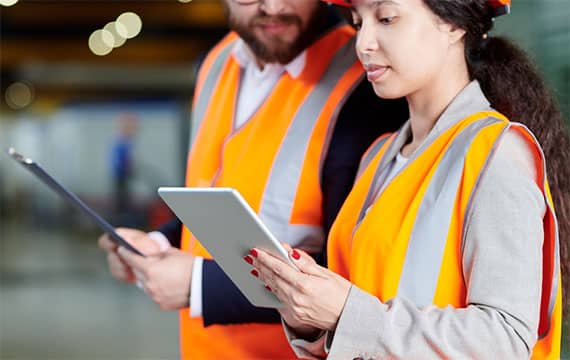 Problem Solving & Decision Making
Employee motivation increases and their resistance to change decreases when they are involved in problem solving and making decisions. Teams generate more ideas and better or different ideas because of their experience and expertise. In this session we'll help the leader build their skills in helping their teams make better decisions and solve problems. A survival simulation is used to teach the core concepts.
Outcomes:
Avoid feeling that you as the leader need to solve every problem yourself.
Solicit ideas, solutions, and insights from your team.
Learn how to avoid having one person dominate the team or have team members withdraw.
Learn to make higher-quality decisions by identifying the problem, examining alternatives, and discussing consequences.
Understand why leaders should speak last to avoid steering the team in the wrong direction or creating the sense that team input isn't needed.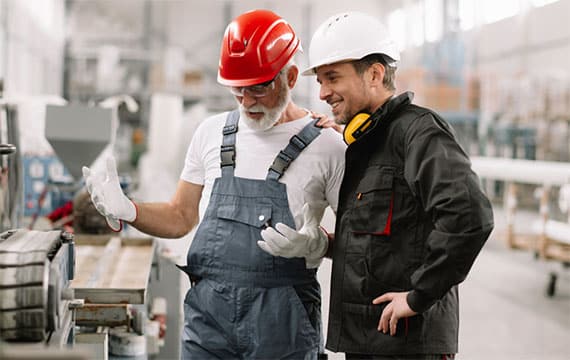 Coaching Mindset
Leaders inevitably need to address gaps between current and desired behavior and performance. Using a simulation based on coaching a sports team, participants will identify the most effective coaching approach to use to maximize the team's chance of winning and participation and commitment of the team members.
Outcomes:
Identify leadership thinking and action that supports or detracts from team performance.
Learn from recognized coaches how they think in terms of team performance and build those insights into the team leader's approach.
Work collaboratively on how to bring a coaching mindset into the workplace to maximize performance and engagement.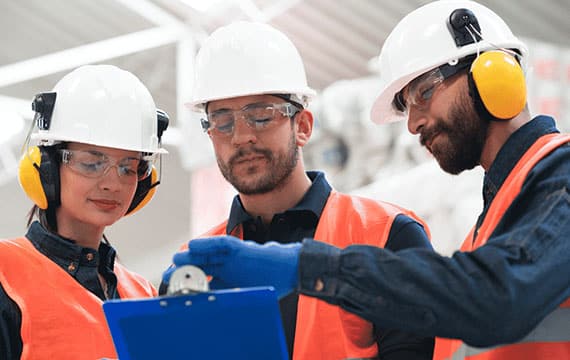 Safety Leadership – Level Two
The front line leader has a crucial role in helping achieve safety performance goals and ensuring team members don't get injured from at risk behaviors. In this session we identify the successes to date and the challenges and opportunities to make additional improvements in safety and deepen the value of safety throughout the organization.
Outcomes:
Reflect on safety accomplishments in the past year.
Identify challenges and opportunities to improve safety performance.
Discuss the supporting and opposing forces to improving safety.
Identify how to strengthen safety as a value to the leader and the team.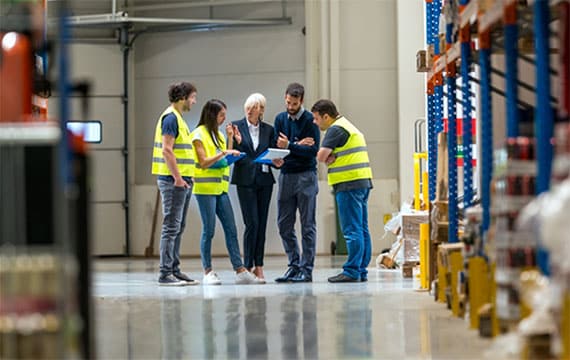 Leading with Trust and Respect
How the front line leader interacts with his or her team will impact the safety, behavior, and results of the team. If those interactions are perceived as disrespectful, the leader won't get maximum effort and commitment from their team. This session will help front line leaders reflect on their own behaviors to show respect to their team and earn greater respect from their team.
Outcomes:
Reflect on how respect and trust shows up in work based relationships.
Develop or enhance leadership behaviors that convey respect, even in difficult situations.
Remain respectful when under stress and pressure.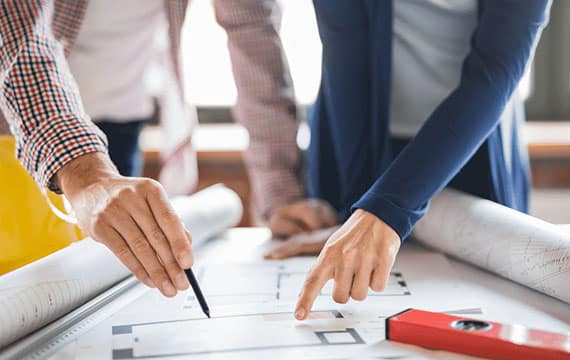 Leadership Style Inventory
We will help the leader understand how their thinking and behavior is either helping or hurting their effectiveness.
Outcomes:
Complete a self-inventory of thinking and behavior styles.
Develop a greater understanding of whether the leader exhibits aggressive-defensive or passive-defensive behavior that detracts from their constructive approach.
Improve relationships both personally and at work by using a more constructive approach.
Gain insights into how to reduce defensiveness and be more constructive.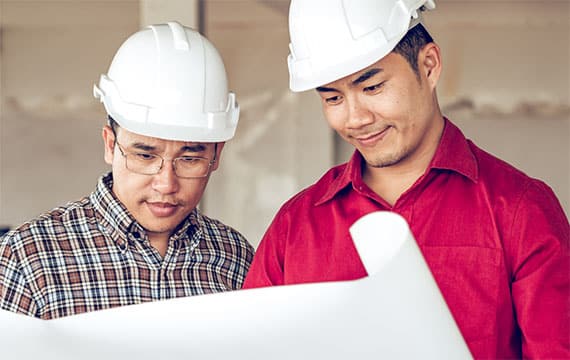 Converting Problems into Action
How the front line leader interacts with his or her team will impact the safety, behavior, and results of the team. If those interactions are perceived as disrespectful, the leader won't get maximum effort and commitment from their team. This session will help front line leaders reflect on their own behaviors to show respect to their team and earn greater respect from their team.
Outcomes:
Reflect on how respect and trust shows up in work based relationships.
Develop or enhance leadership behaviors that convey respect, even in difficult situations.
Remain respectful when under stress and pressure.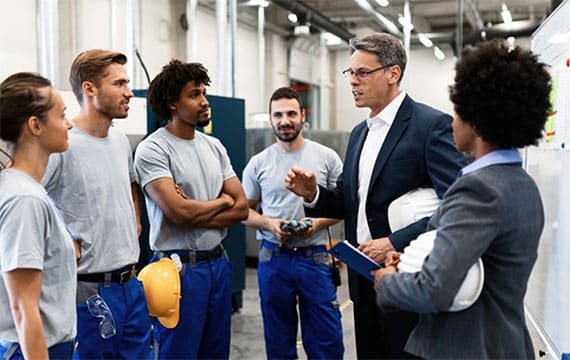 Conducting Effective Team Meetings
Getting everyone on the same page usually involves meetings. And yet many of the meetings that are conducted aren't considered as being useful from the participants point of view.
Outcomes:
Incorporate the ingredients of effective team meetings.
Get better outcomes from meetings by ensuring the team stays solution focused.
Increase the participation and involvement from your crew.
Structure the discussion for success.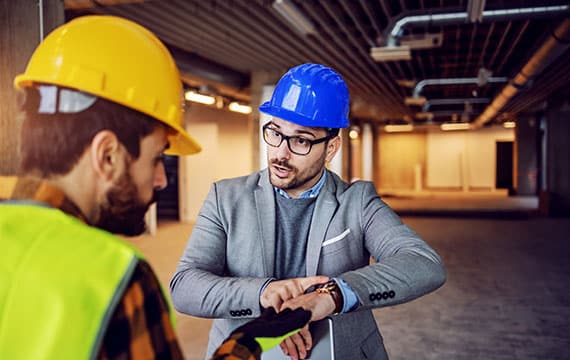 Delegation for Empowerment and Accountability
To achieve the desired results, leaders need to delegate responsibility, authority and accountability to team members. In this session we will provide a system for delegation and follow up that increases accountability without micromanaging.
Outcomes:
Identifying what to delegate.
Get team members to increase their level of self-sufficiency and autonomy so that goals are achieved.
Learn to plan for successful delegation.
Understand the key elements of empowerment.
Understand how both positive and corrective feedback ties into accountability.
Follow up without micromanaging.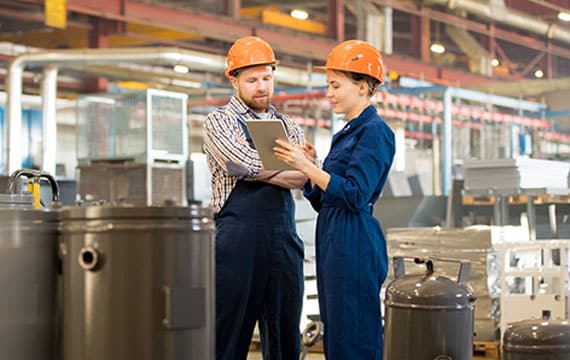 Pit Crew Challenge
(This program has higher pricing due to equipment, transportation, venue, and crew costs - half-day duration)
This experiential learning activity involves a real NASCAR-style race car. Using a driver, crew chief, and facilitator, participants will change all four tires under the clock, benchmark and improve their performance and learn unforgettable lessons about coaching culture, high performance teaming, continuous improvement, and customer focus.
Participants receive a safety briefing and training on the key job functions of the pit crew.
Teams will take turns changing the four tires on the race car and debrief key learnings between each run.
The emotional excitement of working on a real, running race car along with expert facilitation will create life-long learning that leader can utilize to drive performance in their work teams.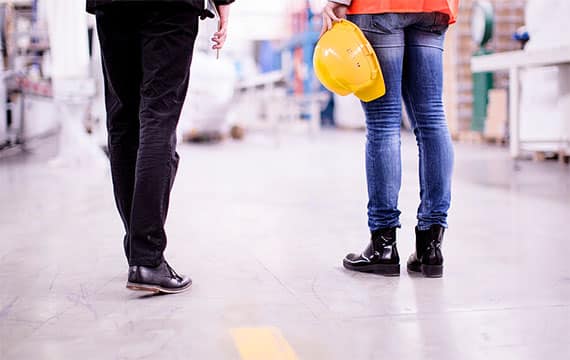 Leading Leaders
Leaders create results by aligning the efforts of the hourly and front line leaders who report to them. In this session the participants will learn how to lead the leaders in their team and help build the performance of those leaders. This includes understanding how to communicate expectations, how to support improvements in their leadership approaches and helping direct reports create more effective leadership habits.
Outcomes:
Evaluate the effectiveness of the leadership approaches in your team.
Communicate expectations so leaders can cascade messages throughout their teams.
Have effective conversations that align the leaders in your team to achieve the results you are accountable for.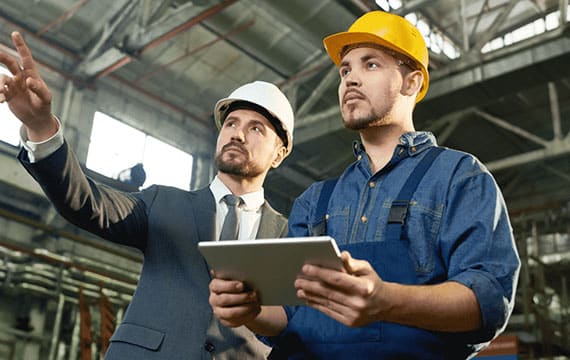 Translating Goals and Objectives into Behavior Change
Senior leaders have ambitious goals to drive business performance. To achieve those stretch goals, they need to help their teams understand the actions and behavior changes required to positive influence outcomes. This session will build the skills needed to translate and communicate goals into the required actions needed in the team.
Outcomes:
Link behaviors and actions to goals and objectives.
Identify performance gaps between currently observed behaviors and the actions needed to drive results.
Develop a specific plan for direct reports and their teams to close performance gaps.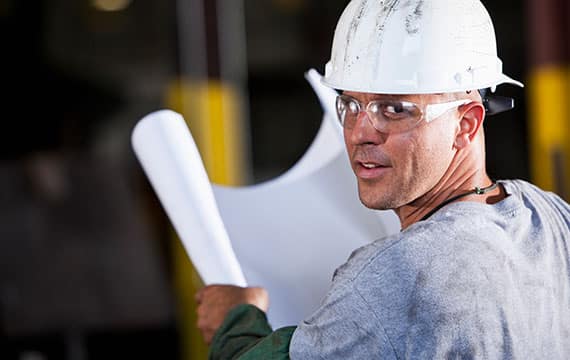 Managing Up
To achieve career success, leaders need to manage their relationships with the managers and executives they report to. In this topic, we help the participant develop practical strategies to manage the expectations created by the senior leaders at their site.
Outcomes:
Identify what your manager expects of you.
Communicating information up within the organization.
Sell your ideas to get buy in from senior leadership.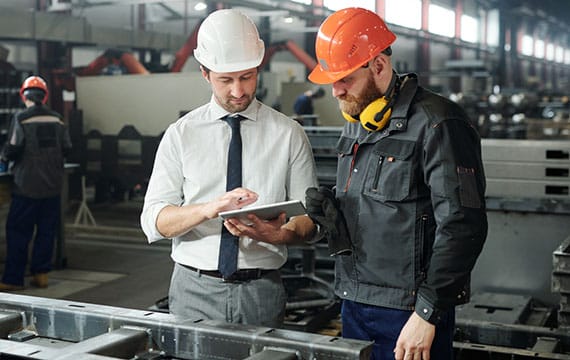 Building a Winning Team
Leaders can see themselves as rugged individualists who feel the need to solve every problem and make every decision. In this session we'll explore why teams tend to generate more ideas and more diverse ideas. Participants will learn how to use a leadership approach that builds a stronger team.
Outcomes:
Recognize the elements of an effective team.
Assess the current health of your team and opportunities for improvement.
Avoid the pitfalls that detract from team effectiveness.
Implement leadership actions to strengthen your team's effectiveness.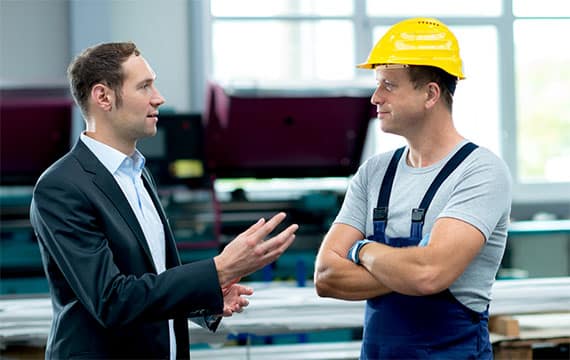 Your Leadership Journey
As part of the wrap up of leadership training, participants will have the opportunity to reflect on what they've learned in the course. They'll think about their leadership journey so far and look ahead at their development priorities for the future.
Outcomes:
Identify their greatest gains so far in their leadership journey.
Look ahead at the areas of leadership that require additional development.
Reflect on the training they've received and the impact it's had on their leadership development.