Just like in the children's story of Goldilocks and the Three Bears, the best managers know how to strike a balance between being too tough or too easy on employees.
The 'too tough' manager is mistakenly seen as an effective leader. Being ruthless might appear strong at first but when overplayed employees will become disengaged and demotivated. Autocratic leadership behavior is often justified because of crises, emergencies and constant firefighting. This can become a never-ending cycle.
The 'too easy' manager tries to keep everyone happy by setting low expectations and trying to be everyone's friend. Employees lose respect and become stagnant which results in low motivation.
There are times when a manager should be tough and times to go a bit easy. The default mode is to challenge and empower employees to achieve top results in a supportive and encouraging way.
What do you think? Comment on this article by clicking below.
New Public Course Dates Announced!
Front Line Leadership
– a two-day course for supervisors, team leaders, lead hands and managers. Especially good for leaders promoted from within. Nov 25/26, 2010 Cambridge, Ontario – Feb 3/4, 2011 Windsor, Ontario.
Get the Outline
The Psychology of Persuasion and Influence
– intriguing advanced communication skills for managers, executives, sales professionals. Learn how to get people to do what you want more willingly. Full-day, Jan 19th, London, Ontario.
Register Here
The Canadian Association of Family Enterprise is hosting a session entitled "Maximizing Employee Performance in a Family Enterprise" Dec 9th, 2010 in London, Ontario – contact Tamelynda Lux southwesternontario@cafecanada.ca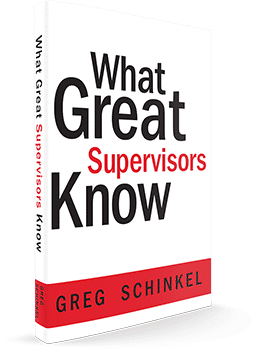 What Great Supervisors Know
- yours FREE!
Simply enter in your name and email address and we'll send it right over to you.